First Choice Real Estate Brokers

Property Search
Pre-Defined Searches for properties and homes for sale in Selected Neighborhoods of Denver, Colorado

Englewood
Denver
Highlands Ranch Click here for pre-defined neighborhoods
Lone Tree
Parker
South Aurora

These include both Residential and Cond/Townhouse listings that are currently on the market, displayed on a map that shows icons for each home on the market. You may also select "bits" that show the locations of schools, cafes, restaurants, grocery stores, etc.

The property and houses displayed in these searches are current listings from the MLS system in Denver, Colorado. It contains more than 95% of all homes and properties available for sale in the realestate market in the greater Denver area.

Define your Own Search Region and Property Characteristics

You may also define your geographic search.
The link to the map based real estate search tool is here, and also at the bottom of this page.

Here are some basic instructions:
1) Once you go to the page, click on the icon that says "Map View"
2a) The "Refine Search" control box allows you to choose home size, bedrooms, etc.
2b) You can also select the link that says "Draw your own search area"
This is where you move the mouse and click, then move to another spot, click again, etc.
As you keep doing this, you will draw an enclosing area that defines your search area.
The final click in the series should be back at the location of the first click to enclose an area.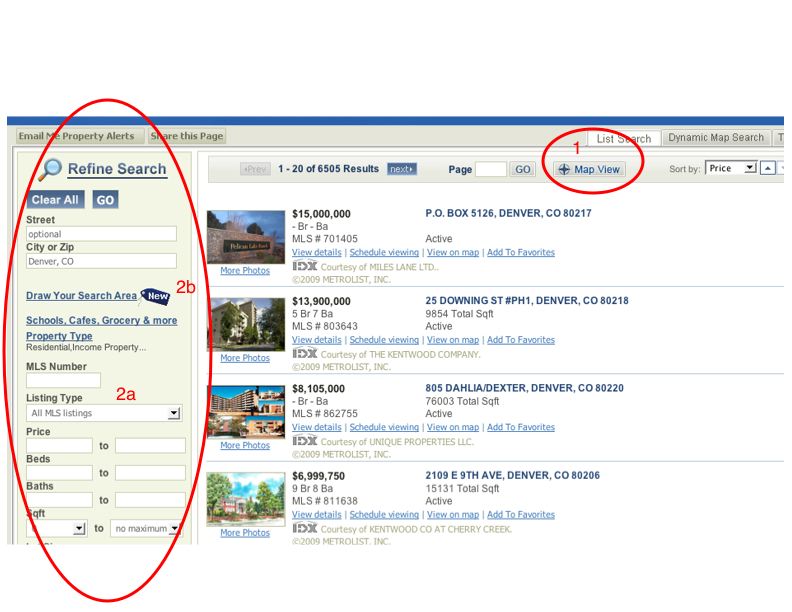 Mobile: (303) 525-1662
Office: (303) 399-2566
Fax: (303) 380-3440
cj@lomheim.com
Copyright 2007 - 2010 Lomheim.com